CATS: Crash Arena Turbo Stars

From the creators of the hit games Cut the Rope and King of Thieves, comes the most ingenious and stylish battle bot constructor!
Build your own battle robot and unleash its power in this new PvP fighting game!
Fight your way up from backyards to the World Championship. Win new parts and use them to design an unbeatable fighting robot. Make every opponent bite the dust!
FAQ & Support: http://zep.tl/cats-help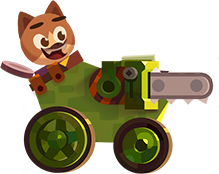 www.catsthegame.com
Key features:
Be a master engineer: design, craft, upgrade, and improve the ultimate battle robot!
Take the role of a mean street cat and fight against other players in fast and hilarious PvP action!
Discover dozens of crazy weapons, gadgets and body shapes. Outsmart your opponents with your unique robot design!
Battle against real players and fight your way to the top of the World Championship!
Watch, share and learn from the best fights!