Cut the Rope: Experiments

Experiment to feed Om Nom® candy! Cut the rope like never before. Everything you love and new gameplay! 200 levels and more to come!
The little green monster Om Nom is back and hungrier than ever! Team up with the Professor, a mad (but not bad!) scientist determined to study Om Nom's candy-loving behavior through a series of experiments. Use suction cups and other funny devices to collect shiny gold stars, uncover hidden prizes and unlock new levels!
www.cuttherope.net
Key features:
8 level packs with 200 levels
Innovative physics gameplay
Adorable character
Outstanding graphics
Om Nom animation shorts
Superpowers
Constant free updates with new levels and animations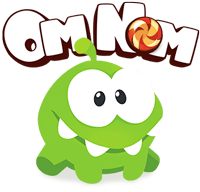 Om Nom
Game Awards: