Cut the Rope 2

In this unexpected adventure, Om Nom breaks out of his box and travels through lush forests, busy cities, junkyards and underground tunnels, all in pursuit of one goal – CANDY! Along the way, he encounters the Nommies, the cutest candy collecting helpers a little green monster could wish for!
Familiar to play, yet challenging to master, Cut the Rope 2 brings fresh challenges and unanticipated obstacles to the candy crunching, physics-based phenomenon that has delighted millions of players around the world!
Don't waste any time - exciting surprises await! Help Om Nom find his way home...out of the forest, through a pond and a junkyard, into the city and beyond!
Key features:
168 entirely new levels
7 new characters
Om Nom can now be customized
Completely new graphics, sound and gameplay elements
Constant free updates with new levels and animations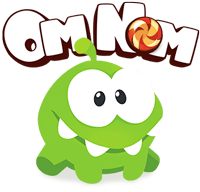 Om Nom